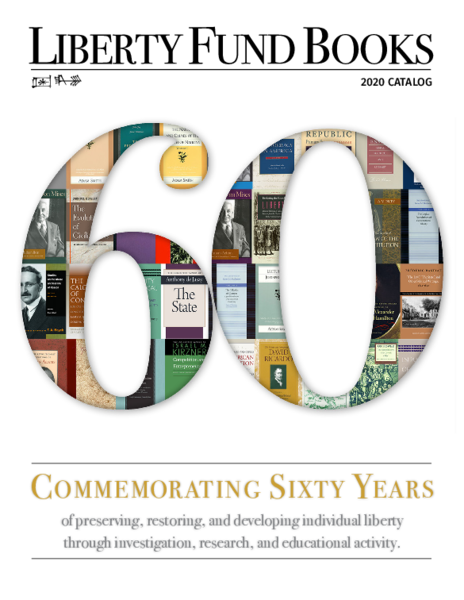 Liberty Fund's complete catalog is available for download in PDF format. Each title in the PDF is hyperlinked to the relevant book page on our website, where you can build a shopping cart and continue with a book purchase. Pricing and publication dates may be subject to change.
Prefer a printed catalog? We'd be happy to help! Please submit your request to catalogrequest@libertyfund.org. Simply provide us with your full name and mailing address and we will mail you a print edition of our expansive book catalog. Limited quantities available.
Liberty Fund has published over 400 titles for scholars, students, and general readers since its first publication, Education in a Free Society, appeared in 1973. Most titles explore some aspect of the interrelationship of liberty and responsibility in individual life, society, and governance. Our print and ebooks are edited and translated by world-renowned scholars who bring to the task the expertise these works deserve. Introductions and forewords provide noninterpretive context; annotations, bibliographies, and other supplementary apparatus further support the text. Printed books are designed and manufactured according to the highest standards of book production—all Liberty Fund books, both hardcover and paperback, are printed on acid-free paper and are bound with sewn signatures, making them invaluable, lasting additions to any library.